Adventure Sports Bangalore
Bangalore, also known as the Silicon Valley of India, offers a variety of adventure sports and activities for thrill-seekers.
If you wish to experience adventure sports in Bangalore, these trips are worth it!
Why do you enjoy Adventure sports? Is it because of the thrill, the fun, the adrenaline rush or the happy hangover? Or are all of these things put together? If you are an adventure junkie, check out the following places for adventure sports in Bangalore.
A perfect place for your adventure-addled brain, it is spread across 12,500 sq ft and houses more than nine snow-themed areas such as snow slides, Devil's Dark House, Mad Labs, Eyelusions, and much more. An expansive indoor snow park has something for everyone, catering to kids, adults, and seniors. You don't need to prepare for this adventure sport in Bangalore; just bring a pair of warm socks. Snow City has everything on your snow checklist. They provide snow jackets, snow boots, and gloves. Specially designed shoes for kids are available for Rs. 750 on weekends and Rs. 650 on weekdays/holidays. Every snow thrill session spans 45 minutes, leaving you wanting more snow-filled excitement. The snow park has various selfie booths, hiking, slides with toboggan, snow disco, and much more. You can also pamper your taste buds with sizzling hot refreshments at Snow Man Café at Snow City.
Book Tickets
If adventure is on your agenda, do not ignore the Augmented reality of the Zoo and 3D Archery at Snow City. Especially if you are visiting with kids, it will be an enhancing educational experience to see a variety of wild animals and other intriguing creatures up close. Of course, nothing will ever replace meeting your child's favourite animal may be a rhino or dino, in person. The 3D Archery is equally eye-popping because, you will mimic real-life shooting on three-dimensional targets. The elated sensation of shooting bunnies in real jungles will be super fun.
3. Gaming arcade at Snow City
If you are a gaming enthusiast or intend to spend a boisterous evening with friends, family or kids, the Gaming Arcade at Snow city is the perfect indoor adventure sport in Banglore. A perfect place to compete with your friends and family. With a virtual variety of games—from bike races, Basketball, and PlayStation games to air hockey— they make sure there's something for everyone. What's more? The racing simulator that vibrates with how you drive in the game and other arcade games.
Located approximately 60 kilometers from Bangalore, Kanakapura is known for water activities. You can engage in kayaking, canoeing, and other water sports at places like Bananthimari Betta and Hosadoddi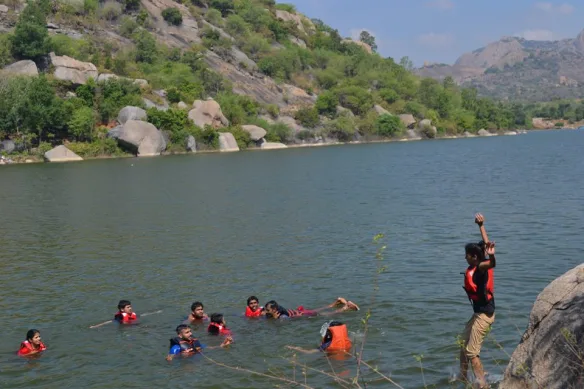 Situated around 40 kilometers from Bangalore, Manchinbele Dam is a popular destination for water sports. You can indulge in activities such as kayaking, rafting, and swimming.
Before planning any adventure sport activities in bangalore, it's essential to check with the respective organizers for the current status, safety measures, and any necessary permits. Additionally, consider your own fitness level and experience before engaging in more challenging activities.
FAQs
Any places you can suggest for adventure sports in Bangalore?
You can plan to visit couple of places from this list. 1. SnowCity, 2. AR Zoo and 3D Archery 3. Gaming Arcade at Snowcity  4. Kanakpura 5. Manchinbelle Dam
Rainy weekend, where can i take my kids out this weekend?
Snow city is a good option for Indoor activity.
How do i book the tickets for Snow City park?
You can book your tickets by clicking here
Any place where we can spend like 4-5 hours for Adventure Sports?
Snowcity offers attractions like Snow park, Madlabs and Eyelusion. Being centrally located, this is the recommended place for 4-5 hours outing.
What do you recommend is the best place for Water Sports?
Manchinbele, 40 kms from Bangalore, offers a serene escape. This water reservoir is perfect for camping by the river, popular among trekkers and adventure enthusiasts. Enjoy kayaking, swimming, and the thrilling activity of Paintball. A budget-friendly weekend getaway promising a memorable experience.
What adventure sport activities can we do in Kanakpura?
You can visit organised camps at Kanakpura and do fun-packed activities like zipline, rappelling, Russian ladder, rope course, jumaring, trekking, etc.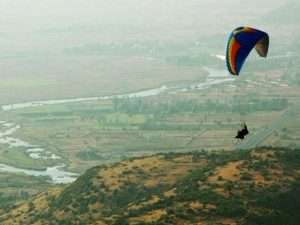 Learn about the top 5 activities that the Bangalore city has to offer.